The Dirty Jobs DVD Buying Guide
I previously explained how frustratingly difficult it is to collect the entire Mythbusters series on DVD. There's another Discovery Channel series that I enjoy almost as much as Mythbusters, and whose DVD release strategy is almost as confusing: Dirty Jobs.
Like Mythbusters, the most widely-available commercial DVD releases of Dirty Jobs are individual "best of" collections. Like Mythbusters, season sets are available exclusively through the Discovery Channel Store. And like Mythbusters, many episodes are inexplicably missing from those seasons sets.
As of this writing, four season sets are available, as are a whole bunch of individual one- and two-episode DVD releases of early episodes of the show. Curiously, it looks like the season one DVD is actually just a repackaging of the first five two-episode DVDs, as it's the only season set with such a low episode-per-disc count, and it doesn't even actually say "season one" anywhere on the discs or the packaging (but it is advertised that way by Discovery). And since, by most accounts (again like Mythbusters, there doesn't appear to be any consistent way of grouping Dirty Jobs episodes into seasons), the first season had only nine episodes (including three pilots from 2003), the season one DVD also includes the first episode of season two.
The oddest thing, though, is the huge block of episodes that aired between those included on the first- and second-season DVD sets. There are 31 such episodes, of which six are themed specials highlighting dirty jobs from previous episodes. We'll come back to those specials; meanwhile, you'll have to purchase 14 of the individual-episode DVDs to get the 25 remaining episodes:
"Ostrich Farmer" / "Cheese Maker" *
"Shrimper" / "Bio-Diesel Man" *
"Micro-Algae Man" / "Chimney Sweeper" *
"Avian Vomitologist" / "Turkey Farmer"
"Alligator Farmer"
"Mushroom Farmer" / "Plumber"
"Termite Controller" / "Casino Food Recycler"
"Rose Parade Float Dismantler" / "Garbage Pit Technician"
"Skull Cleaner" / "Coal Miner"
"Geoduck Farmer" / "Fuel Tank Cleaner"
"Jobs That Bite" / "Jobs That Bite…Harder" *
"Hoof Cleaner" *
"Alpaca Shearer" / "Monkey Caretaker"
"100th Dirty Job Special"
Unfortunately, only five of these 14 DVDs, marked with an asterisk (*) above, are currently available at the Discovery Channel Store. The rest you'll likely have to pick up second-hand. Several are available used through Amazon, and there are usually a few for sale on eBay, often several in a single auction. Also note that eight of these episodes (plus two first-season episodes) are available on the Collection 1 "best of" release. However, except for "Alpaca Shearer," "Monkey Caretaker" and "100th Dirty Job Special," the individual release of each pairs it with an episode which isn't on Collection 1, so if you plan to get all the episodes, you'll have to buy those individual releases anyway, duplicating many of the Collection 1 episodes. There have also been four subsequent Collection releases, but none include any episodes that aren't on the regular season sets.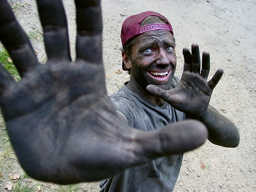 After this block of inexplicably-omitted episodes, the season sets include almost every episode aired as of February, 2010. The chief exceptions are various "special" episodes. Most of these episodes take the form of "clip shows," in which segments from previous episodes are re-purposed. I suppose they were omitted from the season sets because the producer's didn't want to include segments twice on a single release, but many of them also include new introductory footage with host Mike Rowe, and some of them include additional footage originally cut from the segments themselves, so it's disappointing that they weren't included in spite of the redundant material.
Additionally, a couple of the specials, like "Mike's Day Off" and "Crew Unemployment," aren't just clip shows, so it's not clear why they're not included on the DVD sets. I guess "special" episodes don't count as part of the series proper, but since they haven't been released on DVD individually, it would be nice for them to have been included. Whatever the reason, here's the list of episodes you can't get on DVD:
"Dirtiest Animals"
"Dirtiest Water Jobs"
"Creepy Critters"
"Dirtiest Tools & Machines"
"Super Dirty"
"Viewer's Choice"
"Really Dirty Animals"
"Dirtiest Machines on the Planet"
"Crew's Cruise"
"Creepy, Slimy and Just Plain Weird"
"Dirty Innovators"
"Tight Spaces"
"Brown Plate Special"
"Animal Barber"
"Brown Before Green"
"Dirty Presidents"
"Brown Before Green 2"
"Mike's Day Off"
"Safety Third"
"Tight Spaces 2"
"Crew Unemployment"
There might be one exception to this list, though. It's my understanding that "Mike's Day Off" was originally not aired on the Discovery Channel, and instead issued exclusively on a promotional DVD (which also included the "Skull Cleaner" episode). Though the episode eventually aired during the fourth season, again, it's not included on the season four DVD set. I've scoured Amazon, eBay, and all the usual sources of second-hand DVDs, but have been unable to find a copy of the "Mike's Day Off" DVD.
Ignoring that special episode, though, owning the most complete Dirty Jobs DVD collection entails purchasing the four season sets, plus the 14 individual releases listed above. That'll net you every episode aired so far except the 21 specials, which will have to suffice until the Discovery Channel sees fit to release its series on DVD in the sensible manner adopted by practically every other studio.