The Penn & Teller Get Killed DVD that I mentioned last week arrived over the weekend. Though I have not yet had the opportunity to sit down and enjoy the entire movie, I did take the time to briefly skip through the film and sample the quality of a few select scenes.
I'm happy to report that the DVD's image quality is perfectly adequate, at least to my eyes. DVDs released through the burn-on-demand Warner Archive program are generally made with existing materials, which may be in need of remastering or otherwise not in the best condition, so quality can be a real concern. Fortunately, Penn & Teller appears to be in pretty good shape, ostensibly because a new high-definition transfer was prepared for the cable showing I mentioned previously.
Everything else about the release is pretty basic. The audio is presented as a standard two-channel Dolby Surround track. The menu consists of a single generic screen with only one option: "play movie." Chapter stops are placed at ten-minute intervals, rather than at the beginning of key scenes. There are no supplements, which isn't particularly surprising for a burn-on-demand budget release, but some of the Warner Archive titles at least have a trailer. Penn & Teller has nothing.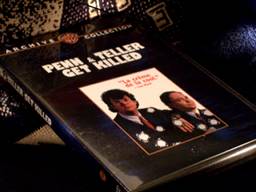 Of course, the point of the Warner Archive program isn't to get lesser-known films on DVD with a high-quality audio and video presentation; it's to get them on DVD at all. All things considered, Penn & Teller Get Killed actually turned out quite well. I can finally retire my laserdisc and Asian video CD releases of the film.