I've previously described a couple of different ways that widescreen films are shot on standard 4:3 film stock, as well as the historical reasons for doing so. Films with an 1.85:1 aspect ratio are typically shot "soft-matte" such that additional picture information is captured above and below the widescreen image as composed by the director or cinematographer, while those with a 2.39:1 aspect ratio are shot with a special "anamorphic" lens such that no extraneous imagery is photographed.
Another commonly-used technique for filming 2.39:1 films is called "Super 35." The Super 35 technique uses standard camera lenses, and captures an image in much the same way that a standard soft-matte production does, framing the 2.39:1 shot within the larger frame of film (the standard film size is 35mm, hence the "35" in "Super 35"). The difference is that when shooting Super 35, the area of the film normally reserved for the analog sound track is instead used as part of the image area. This provides a 32% increase in image area—enough resolution to produce an acceptable quality image, even considering the unused areas of the frame. As with films shot soft-matte, this unused are can be utilized in creating a "full-screen" version for home video (though, due to the wider aspect ratio of Super 35 films, the creation of the full-screen version usually involves a bit of cropping on the sides of the image, as well as opening up the mattes on the top and bottom).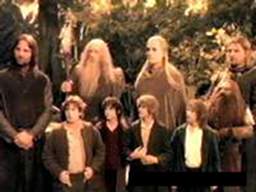 A number of popular films have been shot in Super 35. The Harry Potter and Lord of the Rings movies were all shot Super 35. It was notably employed in filming Top Gun because Super 35 uses smaller lenses than anamorphic photography, allowing the cameras to better fit into the small space of a fighter plane's cockpit. Director James Cameron, though he more recently adopted digital photography for Avatar, has famously championed the Super 35 format, going so far as to endorse the release of the full-screen version of The Abyss on Laserdisc, stating that he believed it "to be superior in many ways to the letterbox, due to the poor resolving power of NTSC video."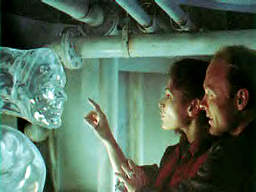 I won't get into it now, but I think there's an argument to be made on that point, about the importance of a film's intended framing vs. the compromise necessary to present that framing on home video. Fortunately, the increasing ubiquity of 16:9 HDTVs means this is less of a concern than it was in the past, and that watching a movie at home replicates the theatrical experience better than ever, including framing and composition, exactly as the filmmakers intended, regardless of the technique they used to achieve it.