Last week, I described the process of shooting a 1.85:1 widescreen film, and explained why the full screen version of such a film often exposes more image area than the widescreen version. However, a fair number of widescreen movies are shot with an even wider aspect ratio, 2.39:1. This is often called the "scope" format, short for CinemaScope, the forerunner to the current photographic process used to shoot films in that aspect ratio. The scope aspect ratio is sometimes listed as 2.35:1, which was the standard until 1970, or 2.40:1, which is simply the result of rounding, but don't let this confuse you—all three figures refer to the same basic thing.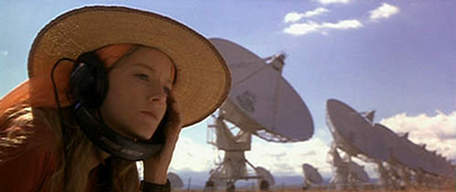 Remember that 1:85:1 films are shot by exposing the entire frame of film, whose aspect ratio is 1.37:1, then extracting a smaller 1.85:1 area from within that frame. Unfortunately, 2.39:1 films can't be shot that way, because too much of the frame would go unused. With 1.85:1 films, just over a quarter of the film's resultion goes unused because it's taken up by the extraneous areas above and below the 1.85:1 area. That's a fair portion, but the remaining three-quarters can still produce an image of perfectly acceptable quality. However, shooting a 2.39:1 film that way would entail giving up more than fourty percent of the available resolution. That amount is not considered acceptable; the resultant image would lack detail, and would have to be blown up significantly, resulting in an excessively "grainy" image.
Ultimately, two different approaches were developed to solve the problem of shooting a 2.39:1 film on 1.37:1 film. One of these techniques, dubbed "Super 35," actually works similarly to shooting a 1.85:1 film in that the 2.39:1 image is extracted from within a larger overall frame (I'll describe the process more fully in the future). The more novel approach involves using an "anamorphic" lens to shoot the film. An anamorphic lens distorts the image by compressing it horizontally. In an image captured using an anamorphic lens, everything appears tall and skinny.
Films shot anamorphically are played back on a projector whose lens does exactly the opposite, stretching the image horizontally, back to its correct proportions. When this is done, the image, captured on film with an aspect ratio of 1.37:1, is now of course a lot wider: 2.39:1. This technique allows filmmakers to capture a wide 2.39:1 image while retaining the full resolution of the 1.37:1 frame of film.
As a result, an anamorphically-shot film doesn't have any extraneous picture information that can be exposed in a full screen release. When an anamorphically-shot film is shown full-screen, it must be done via the much-maligned (and rightly so) "pan and scan" process, whereby the sides of the image are cropped to achieve the 1.33:1 aspect ratio (that of a standard television). The 1.33 area that remains is sometimes shifted around with respect to the original 2.39:1 frame in an attempt to capture the "most important" parts of the image, but the inescapable result is that more than fourty percent of the image as composed by the director and cinematographer is simply discarded, seriously compromising their work.